Even celebs have to respect Golf Club Rules!
FROM SHANKS AND LIPOUTS
IRC GOLD COLUMN ON SUNDAYS
Say what you like about the exclusive golf clubs of the world, for all their snobbishness and often rather ridiculous rules, they care nothing about their member's wealth or celebrity status when deciding to enforce their somewhat draconian constitutions. The cases of golf clubs coming down hard on individuals, be they members or guests of members, for seemingly harmless infractions of their sacred rules, are legion.

I recall when Michael Jordan (yes, the Michael Jordan, sport's first billionaire), was hauled off a golf course for his infraction of the rules, and then summarily banned from ever playing there again. This happened at La Gorce Country Club in Miami, where Jordan so far forgot himself as to wear cargo pants. One could argue that at a club were Bermuda shorts are quite acceptable, they might have turned a blind eye to the offending cargo variety, which have one or two pockets and perhaps a zipper or two more than Bermudas, but hell no, rules are rules. Jordan had already played 11 holes, when a club official approached him, informed him of the dress rule. It was suggested that Jordan return to the clubhouse and change into something more in line with accepted dress. He refused, choosing to play the last 7 holes dressed as he was – which were the last holes he would play at the club.

Jordan had nothing to say after it was revealed that the club decided to ban him, but his spokesman was on hand to offer an excuse: Michael had played there in the past, wearing cargo pants, and nobody had told him that this was against the rules. Well as my learned friend might have told him, ignorance of the law is no justification for breaking it, and just because the accused had gotten away with a particular misdemeanour in the past, this didn't mean he was immune from punishment.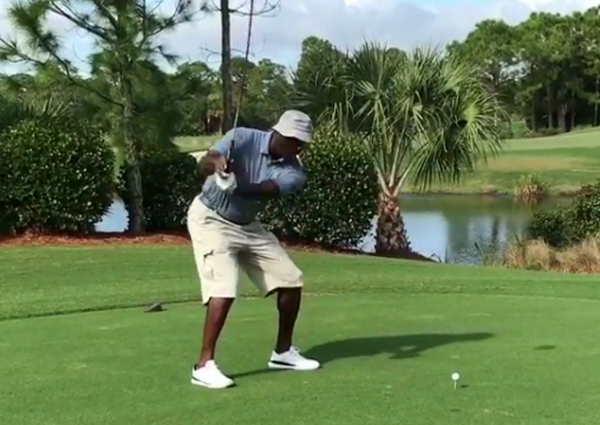 WRONG SHORTS: Michael Jordan was banned from La Gorce – not for his shocking swing.

O.J. Simpson was immediately declared persona no grata at Riviera Country Club when the news of the infamous double murder broke, and the fact that a jury inexplicably found him not guilty had no bearing on his status as a disgraced former member. Granted, a matter somewhat more serious than wearing the wrong pants, but Simpson was not deemed to be innocent until proved guilty, as the club and its membership, made up of many of Hollywood's elite, decided that he would never be welcome there ever again, even before the case got to trial.  

Falling somewhere between wearing "illegal" pants and murder was the case of Kevin Kisner, the PGA Tour player who was deemed to be flaunting behavioural standards at his home course in South Carolina, Palmetto Golf Club. This facility is one of the most historic in the US, and Kisner owns in a home overlooking one of the fairways here.

Callaway, one of Kisner's sponsors, decided to shoot a video showing what a Tour professional might do on a day off. The 7-minute video featured Kisner filling a large cooler box with beer and playing a round with a group of friends. The round began with the group racing each other in golf carts. Once the video was loaded onto YouTube, Kisner and other members of the club that were shown in the video, were immediately suspended. The video did seem little more than some harmless fun, and suspension did seem a little harsh, and it was lifted soon after. Presumably mitigating factors included the fact that the group's attire was legit, and nobody died.   

At Augusta National, it is not necessary to be playing the course to be banned, as Wayne Player, son of the famous Gary Player, found out. At last year's US Masters, Player junior was caddying for his father, and during the introduction of the honorary starters he pulled a stunt that was viewed in a very dim light by the management of Augusta. As Player, Jack Nicklaus and Lee Elder were being introduced, Wayne was seen to be brandishing a box of golf balls – a cheap marketing ploy at a place that frowns on commercialism. Worthy of a life ban? Apparently so.       

Often when a member is accused of bringing the reputation of their club into disrepute, they will often quietly resign. This brings me to the news that Prince Andrew, the Duke of York, had resigned his membership of the Royal and Ancient Golf Club of St Andrews. A former club captain of this august institution, the duke has found himself embroiled in a sex scandal, and while maintaining his innocence, he, or perhaps his powerful mother, decided that the most honourable course of action was to resign. 

I am certainly not qualified to comment on the merits of this case, but some might think that it is strange that if one is innocent of a charge, no matter how serious, resigning might just suggest that amid the smoke there is a fire. – IRC.