The Grand Slam Jinx
A total of 458 major championships have been played, with 227 different players joining the exclusive club of major champions. The list of champions that have managed to win all four majors, the career 'Grand Slam', remains rather short, although there is a chance that Jordan Spieth could soon join this illustrious group.  

At the risk of stating the obvious, achieving a career Grand Slam is extremely difficult. The fact that only five players – Gene Sarazen, Ben Hogan, Gary Player, Jack Nicklaus and Tiger Woods have done this is proof enough.

The term Grand Slam was first coined when Bobby Jones won what was then golf's four "majors" (the Open and Amateur Championships of the US and UK), in a single calendar year. This will simply never happen again. The possibility of a career Grand Slam only began in 1934, when the US Masters joined the US PGA Championship and the US and British Opens to form the four modern majors, and for a while, the scheduling of PGA Championship and the Open Championship clashed. Once this was sorted out, it became possible, if highly improbable, for a player to win all four of these important events.

The reasons for the slim likelihood of any player completing a career Grand Slam have much to do with the nature of the golf courses being so different, and the increasing depth of talent on the professional Tours. Another reason, dare I suggest, is the jinx that many great players have failed to overcome.

UPCOMING IRC TOURNAMENTS -15% OFF

Arnold Palmer, more than any player during his era, should have won all four majors. He was justifiably called "The King", and his swashbuckling, go-for-broke style of play saw him outclass fields on several occasions – except when it came to the PGA Championship. Palmer won seven majors between 1958 and 1964, and it must have been infuriating for him to finish second in the PGA three times.

Tom Watson is another player who was the best player in the world (before the official rankings had been established), and was deserving of a Grand Slam, but like Palmer, the PGA Championship eluded him. He did manage a second place in 1978 and looked every bit the winner after leading from the first round and started the final day five shots in front. He eventually lost in a playoff, and his tally of majors remained at 8.

SUBSCRIBE TO SHANKS & LIPOUTS, NO CHARGE

Another legendary player who seemed jinxed in his attempts at completing the "Slam" was Sam Snead. Snead won 82 tournaments on the PGA Tour (only Tiger Woods has won as many), including seven majors, but the US Open, where he finished second four times, eluded him. "Slamming" Sam was credited with having the finest golf swing in the history of the game, and both Gary Player and Jack Nicklaus have said that there was never a greater ball-striker. Snead, from West Virginia, played up to his "folksy" image as a simple country boy. Once, early in his career, a friend told him that he was truly world famous, because his picture was in the New York Times. "It must be a forgery," said Snead, "I've never been to New York!".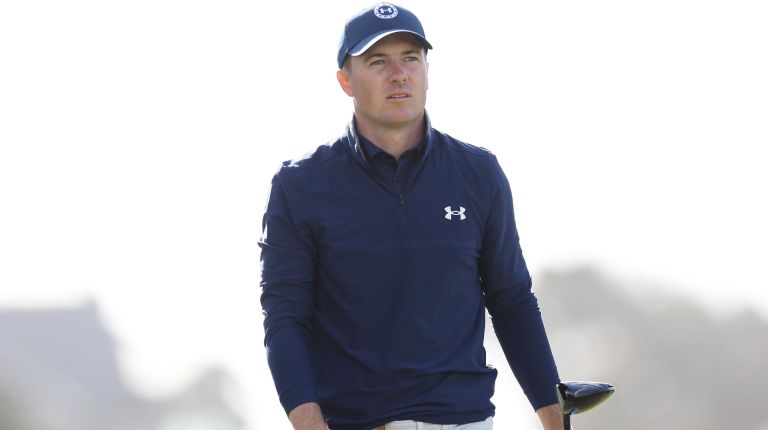 A CHANCE TO DANCE: But will young Jordan fall prey to Grand Slam Jinx?
There are other players from a bygone era that might well have completed the "Slam", the likes of Lee Trevino and Ray Floyd, but in more recent times, Phil Mickelson is the one player who has had numerous chances but blew them all. His impressive CV includes 45 wins on the PGA Tour and six majors. The only one missing for his Slam is the US Open, where he has fished second no less than six times. It is unlikely that he will ever get another opportunity.

Of course, the two most likely contenders to become the sixth Grand Slam winners are Rory McIlroy and Jordan Spieth, and I would give Spieth the edge. McIlroy is going to have to wait until the masters rolls around next year, while Spieth can get it done in a few weeks' time at the PGA Championship. The early betting in Vegas has Jon Rahm as a narrow favourite over McIlroy, with obvious names such as Scheffler, Morikawa, Thomas, Johnson and Koepka near the top of the boards. The shortest price of a player without a major title is Patrick Cantlay (18-1), but his previous performances in majors doesn't inspire confidence. As expected, Cameron Smith has his supporters (20-1), the same price as Spieth.

My bookmaker will attest to the fact that my ability to predict any result is rather dismal, but a strong case for Spieth can be made. What I fail to understand is Spieth's indifferent putting of late, and while his ball-striking has improved, his work with the "flat stick" has been indifferent at best. The young Texan was the best putter on Tour a few seasons ago, but while his stroke still seems sound, his reading of greens has no been great. In truth, he should have won by a street at the Heritage over the Easter weekend, but as it was, he only just got over the line, missing a few "tiddlers" on the way. The former world number one surpassed the $50 million mark in official career earnings with this win – good going for a 28-year-old.

Spieth has recently been bullish about his chances to win this PGA Championship and has pointed out that playing conditions at the venue, Southern Hills in Tulsa, Oklahoma, will be like those he is accustomed to at home. He avoided making mention of the dreaded "jinx."  – IRC.